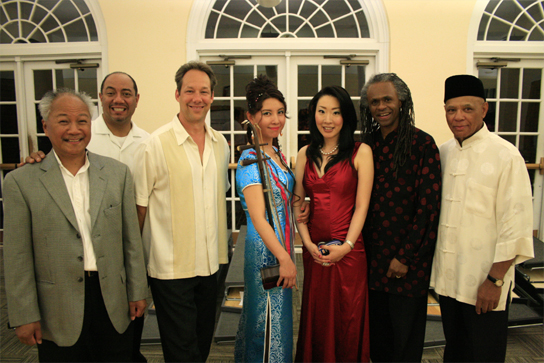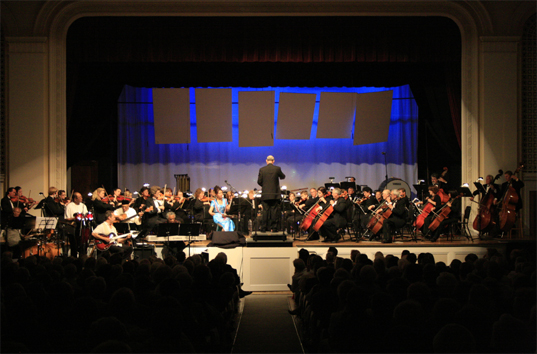 Selections From WUJE & The Coastal Symphony of Georgia:
(click to listen, right-click to download)
China Skies / In A Chinese Tea Garden - Live
Skylark - Live
WUJE Introductions By Keith Williams
Selections From WUJE's "Hollow Reed" CD:
Hollow Reed
Persian Prophet
Jazz, Latin, Asian, & Reggae in Concert with Symphony Orchestra
On Monday, April 21 2008, the audience of the Coastal Symphony of Georgia welcomed to the stage the World Unity Jazz Ensemble as part of their "Music of America" program. With the first downbeat the audience knew it was in for a musical experience very different from any other heard or seen in Brunswick, GA. As the beautiful Xiao Hui Ma (pronounced Shaow - Way) from China, graced the stage bedecked in traditional Chinese dress with her erhu (pronounced Ahr-hoo) in hand, the audience welcomed her with befitting applause. This world-renowned artist can be heard on the soundtrack of the popular film "Crouching Tiger, Hidden Dragon" playing the erhu alongside Yo-Yo Ma.
The World Unity Jazz Ensemble (WUJE) began a five song set of original compositions of bassist/composer Phil Morrison which were skillfully arranged for full symphony orchestra by pianist/arranger Keith Williams. This composer/arranger team assembled the jazz oriented WUJE while performing in Asia. On this evening's performance, Xiao Hui Ma was the featured soloist with WUJE and accompanied by the Coastal Symphony of Georgia. It was truly an extraordinary experience to hear Asian flavored melodies played with the haunting and beautiful sound of the erhu, energized by jazz and Latin rhythms performed by world class musicians of many different races and cultures. The only non-original standard tune was the Hoagy Carmichael classic "Skylark" which was exquisitely sung by Kaori Yamada of Japan, whose physical beauty was matched only by that of her voice.
WUJE (woo jay) and Xiao Hui Ma finished their performance with the song Persian Prophet. This tune blended a hint of a mid-east melody with a reggae beat, performed by American, Chinese, Japanese, Puerto Rican, Filipino, Black & White musicians, indicating the potential of a unified human family, while demonstrating that different musical genres (jazz, classical, Latin, Asian, Reggae) can be performed harmoniously. The audience roared to life, applauding the superb performance of the ensemble. Many had never before seen an erhu, yet instantly recognized its earthy, violin-like quality that is sometimes mistaken for a woman's voice. The Songs performed by the World Unity Jazz Ensemble are also featured on their new album entitled "Hollow Reed" which is available on
cdbaby.com
or locally at Daddy Cate's Coffee in downtown Brunswick, or Moondance Vintage Clothing and Palm Coast Coffee in the village on St. Simons Island.
Noteworthy addition: A new song written by Phil Morrison and Keith Williams has been selected as an official song for the Beijing 2008 Summer Olympic Games!